| | |
| --- | --- |
| Color | Pale, soft pink to deep, rosy pink |
| Chakra | Heart (4th) |
| Element | Water |
| Care | Fades in direct sunlight |
| Water Cleansing | Yes |
| Zodiac | Taurus, Gemini |
| Best for | Unconditional love, compassion, kindness |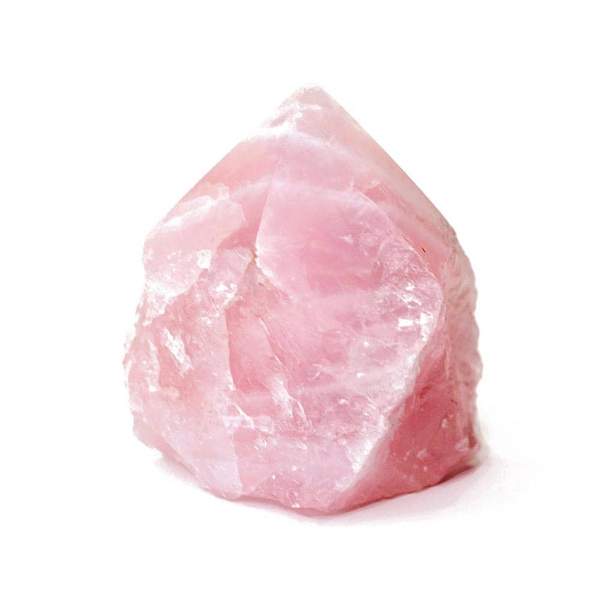 I am open to receive love. I am safe and nurtured. My heart is filled with peace, tolerance, forgiveness and kindness. I have deep love and respect for myself and others.
Rose Quartz Healing Properties and Benefits
Promotes unconditional love, peace, and compassion
Inspires self-love
Promotes an attitude of loving kindness
Calms after traumatic events
Instills tenderness
Promotes mutual understanding
Adds spark to a romance and promote trust
Eases mid-life crisis
Soothes a broken heart
Helps with emotional balance
Encourages friendship & maternal love
Eases the grieving process
Promotes forgiveness, trust, and understanding
Helps with healing lungs
Increases fertility
Treats a poor complexion
How to Use Your Rose Quartz Crystal
Crystals are powerful healers when used with consciousness, clear intention, and positive energy. Here are a few ways to use your crystals:
Curate a crystal collection and interact with it in any way that inspires you.
Decorate your personal space or office with crystals and stones and appreciate their unique beauty regularly.
Wear crystal jewelry.
Give crystals as meaningful and personal gifts.
Meditate with your crystals.
Tuck a crystal into your pocket, wallet, your bra, or under your pillow (some crystals are too intense for bedroom).
Place them in sunny window sills or in your plants. Be mindful that colored stones such as amethyst will fade over time if left in the sun.
Program your crystal with a healing mantra and allow the crystal's energy to amplify the message into your environment.
Create a crystal grid with your crystals
Descriptions of the healing properties of crystals are from the following sources
My own experiences and observations of crystals

The Crystal Bible: A Definitive Guide to Crystals by Judy Hall

Gemstone Healing: How to Choose and Use the Right Crystal and

Healing Technique by Michael Gienger

Crystals: The modern guide to crystal healing by Yulia Van Doren

The Little Book of Crystals: A Beginner's Guide to Crystal Healing by Astrid Carvel

https://www.charmsoflight.com/

https://loveandlightschool.com/

https://www.energymuse.com/
Disclaimer: The information contained on this site is intended for educational purposes only and is not a substitute for advice, diagnosis or treatment by a licensed physician. You should seek prompt medical care for any health issues and consult your doctor before using alternative medicine or making a change to your regimen.
Learn about other crystals