Sodalite
| | |
| --- | --- |
| Color | Light, medium, or dark blue with white splotches (and sometimes dark blue or black veins). |
| Chakra | 5th (Throat) or 6th (Third Eye) |
| Element | Earth, Water |
| Zodiac | Virgo, Libra |
| Water cleansing | Quick rinse |
| Best for | Intuition, trust, willpower |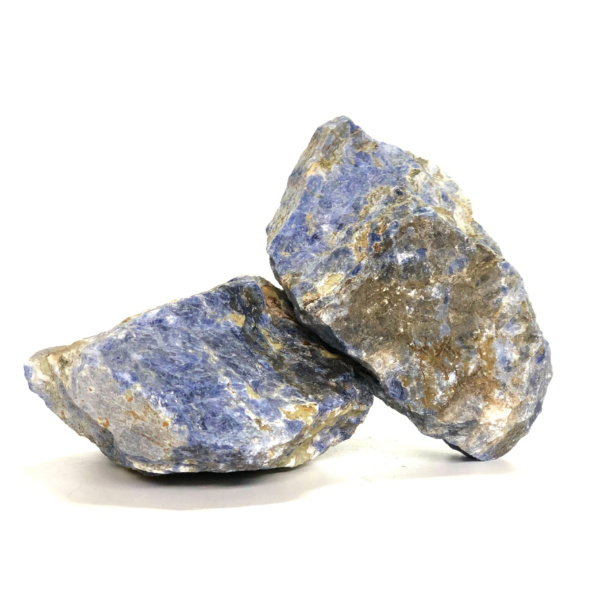 I am calm. I am relaxed, and all is well. I sail through life on calm, nurturing waters and enjoy good health free. I am extremely intuitive. It is easy for me to make decisions. I am at peace with myself and the world around me.
Sodalite Healing Properties and Benefits
Physical Healing Properties
Boosts the immune system and overcomes calcium deficiencies
Treats the throat, vocal cords, larynx and helps with hoarseness and digestive disorders
Cools fevers, lowers blood pressure and stimulates the absorption of body fluids
Helps to prevent insomnia
Encourages a healthy metabolism
Mental and Emotional Healing Properties
Encourages rational thought, objectivity, truth and intuition, along with verbalisation of feelings
Brings emotional balance and calms panic attacks
Enhances self-esteem, self-acceptance and self-trust.
Increases accurate intuitive thoughts
Helps you to stand up for yourself
Enhances group cooperation
Banishes bad habits and negative thinking patterns
Aids you in absorbing new information and learning new things
Removes fear, guilt
Encourages self-confidence
Spiritual Healing Properties
Encourages successful stilling of the mind during meditation
Aids you in speaking your truth
How to Use Your Sodalite Crystal
Crystals are powerful healers when used with consciousness, clear intention, and positive energy. Here are a few ways to use your crystals:
Curate a crystal collection and interact with it in any way that inspires you.
Decorate your personal space or office with crystals and stones and appreciate their unique beauty regularly.
Wear crystal jewelry.
Give crystals as meaningful and personal gifts.
Meditate with your crystals.
Tuck a crystal into your pocket, wallet, your bra, or under your pillow (some crystals are too intense for bedroom).
Place them in sunny window sills or in your plants. Be mindful that colored stones such as amethyst will fade over time if left in the sun.
Program your crystal with a healing mantra and allow the crystal's energy to amplify the message into your environment.
Create a crystal grid with your crystals
Descriptions of the healing properties of crystals are from the following sources
My own experiences and observations of crystals

The Crystal Bible: A Definitive Guide to Crystals by Judy Hall

Gemstone Healing: How to Choose and Use the Right Crystal and

Healing Technique by Michael Gienger

Crystals: The modern guide to crystal healing by Yulia Van Doren

The Little Book of Crystals: A Beginner's Guide to Crystal Healing by Astrid Carvel

https://www.charmsoflight.com/

https://loveandlightschool.com/

https://www.energymuse.com/
Disclaimer: The information contained on this site is intended for educational purposes only and is not a substitute for advice, diagnosis or treatment by a licensed physician. You should seek prompt medical care for any health issues and consult your doctor before using alternative medicine or making a change to your regimen.
Learn about other crystals